Art and Design
Gorseybrigg Primary School and Nursery provides children with an exciting and enriched art curriculum.
Art and design stimulates creativity and imagination.
It provides visual, tactile and sensory experiences. The children are able to use their art work as a form of visual communication and personal expression in a variety of media and techniques.
Art and design is not just a subject to learn, but an activity that you can practise:
with your hands, your eyes, your whole personality.

- Quentin Blake | Illustrator and Children's Laureate
'You can't use up creativity. The more you use, the more you have.' Maya Angelou
Intent
At Gorseybrigg Primary School, we want all our pupils to be inspired and engaged by a high quality art education.
We offer children the opportunity to study a wide range of artists, media and skills, especially those which they may not otherwise encounter, in order to enrich their cultural awareness.
We are committed to promoting depth of knowledge which is supported by the direct teaching of challenging, domain-specific art vocabulary to enable children to consider and articulate their developing understanding and opinions.
Our art curriculum provides a framework for every child to explore their creativity; experiment with and improve their practical skills and enable them to express their individuality. We understand and promote the use of art to support well-being and happiness.
We strive to cultivate a real enjoyment of art and to support all children to achieve their full potential.
Implementation
Throughout the academic year, art and design opportunities are provided as an enhancement to the wider curriculum including but not limited to:
Inviting local artists into school
Arts week
Class projects linked to the wider curriculum
In the summer term, the core art curriculum is delivered during our school-wide creative arts focus. This subject-blocking offers pupils and teachers the time and focus to delve deeply into the art skills, knowledge and vocabulary required for high quality learning and teaching. Each year group studies several notable artworks which are linked to the termly theme and chosen specifically to engage and inspire children in that age group. These are examined in depth and provide the main vehicle for the teaching of the essential skills of drawing, colour, printing and pattern, sculpture, texture and editing and improving. Progression is embedded into our art curriculum and described in detail in our art skills progression map.
Impact
Learning
We want all children at our school to make excellent progress, achieve success and find enjoyment in art. Our belief that art helps our pupils to develop confidence and explore creativity guides the choice of activities and resources to promote active participation by everyone whatever their race, gender, economic status or ability. We strive to meet the needs of those pupils with special educational needs, disabilities, particular gifts and talents and children for whom English is an additional language so that everyone is able to fulfil their potential.
Our art curriculum is filtered through our 'big idea concepts' so it has relevance for children's understanding of our local, national and worldwide community. We hope that our pupils' adult lives continue to be enhanced by their enjoyment and understanding of art and offer our art curriculum as a foundation for life-long learning and pleasure.
To achieve our high expectations and fulfil our commitment to excellence, we appreciate how crucial it is to engage with students in order to evaluate the impact of our provision. We regularly conduct pupil voice interviews and act on the outcomes. Using our in-year assessment model, we consider the attainment of individuals and use the results to set pupil targets.
Teaching
To inform excellence in art teaching, we intend that teaching staff will develop a deep knowledge of the curriculum. To enable this, all teachers have access to our Access to Art membership, which offers training, and participate in practical training sessions arranged in-house by our art specialists. Assessment against the curriculum enables us to consider attainment and progress and adjust teaching accordingly, communicating achievement in art to children's new teachers. Regular monitoring including lesson observations, book-looks where appropriate and the checking of planning takes place in a supportive atmosphere where the emphasis is on improvement and the sharing of ideas.
Our Community
The curriculum is designed to value art from all cultures and our resources include drawing equipment and a range of media and stimuli from around the world. Children are taught to recognise and appreciate the differences and similarities between artists from different eras and countries. We recognise the role that artwork can have in engaging with our community and children have the opportunity to make a positive contribution by participating in local art projects, such as the well-dressing and displaying artwork in local hubs and businesses. We use these occasions to provide information about our curriculum and to listen to opinions and suggestions, including those from parents and carers.
What are the range of learning experiences and teaching strategies?
The Early Years Foundation Stage (EYFS)
In the EYFS, the indoor and outdoor environments provide children with a wide range of activities to promote creativity including; drawing, collage, painting, textiles, 3D work and printmaking.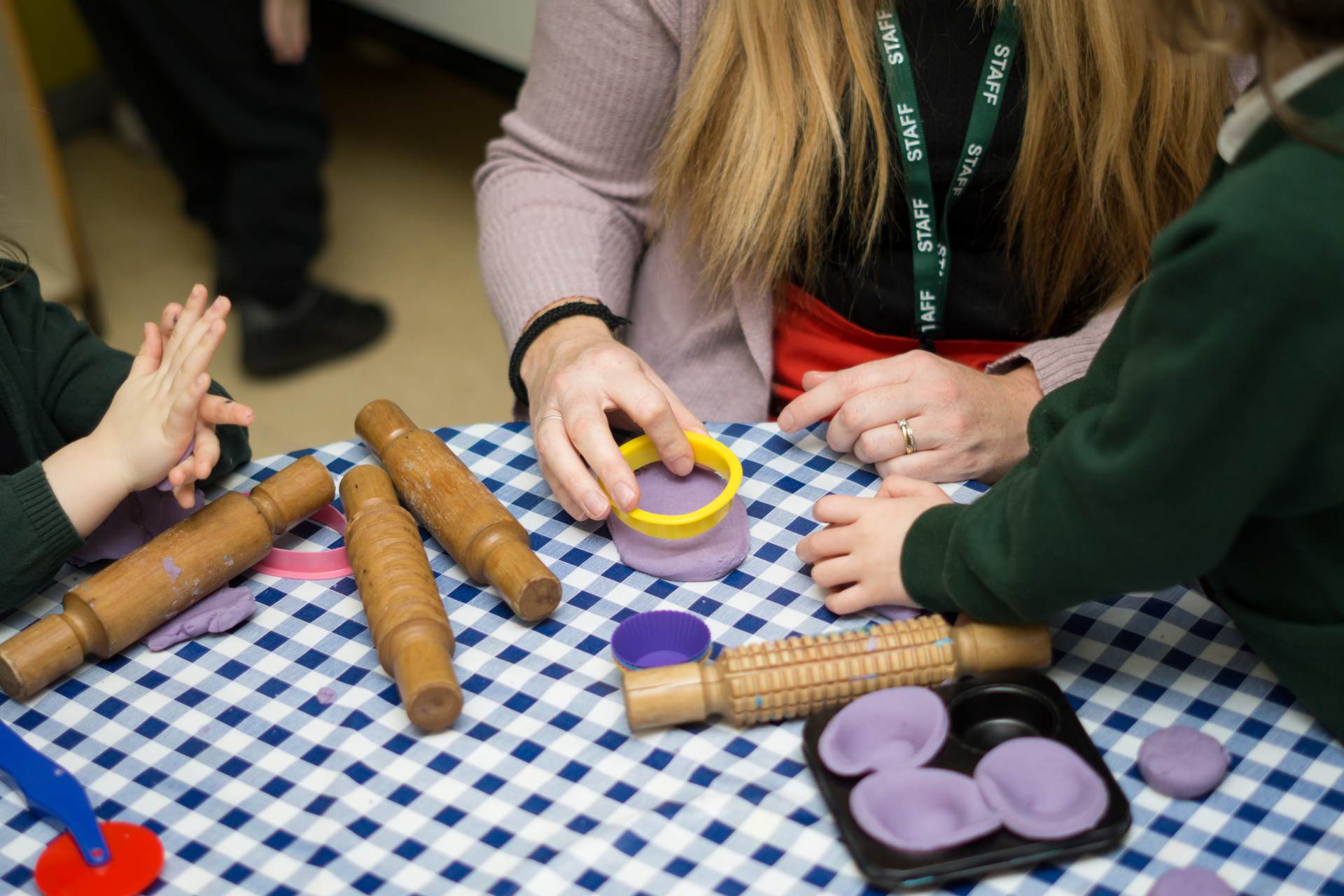 Key Stage 1
At Key Stage 1, our children are introduced to a range of materials and techniques in drawing, painting, sculpture and product design.
They are encouraged to use their imagination and creativity in their work and to begin to be reflective artists. The children take influence from famous artists and designers including Mondrian and Bridget Riley. In year two's Happily Ever After topic, the children take inspiration from the painting 'Castle and Sun' by Paul Klee. They use collage and paint to create their own castles.
Key Stage 2
At Key Stage 2, our children learn to master the skills and techniques acquired in KS1 and learn to become more critical of their own work, discussing how they could improve and refine their work.
They gain the confidence to select and discuss their choice of media. For example, in year three children design their own masterpieces in the style of Pablo Picasso and in year five children use a collection of natural materials to make land art, inspired by the sculptures by Andy Goldsworthy.